Carrier Cooling
Carrier Cooling Products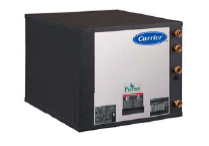 The air conditioning systems available today are far superior than older models in both efficiency and environmental friendliness. Carrier's line of cooling equipment features both ductless and central style units that homeowners have relied on for years – and we sell, install and maintain them all! Save on your annual cooling costs by upgrading an outdated AC system today. Keep reading to learn more about the cooling equipment available from Carrier.
Air Conditioners
What kind of condition is your air conditioning in? Noisy? Uneven? If your old system just doesn't make you feel the way it used to, we can help.


Infinity® Series Air Conditioners - If there's an air of superiority to these units, it's because they're the quietest, most efficient models Carrier makes. Built for total home comfort, the Infinity series central air conditioners offer an enviable SEER rating of up to 21. Combine it with Carrier's innovative Infinity® control for their highest degree of comfort management.
Performance™ Series Air Conditioners - Presenting a reliable, energy efficient and quiet way to cool your space—no matter how much space you have. In addition to a traditional air conditioner, the Performance series line includes a compact unit for tighter installations. Both types can operate more quietly than most dishwashers and offer impressive SEER ratings
Comfort™ Series Air Conditioners - Looking for the most economical way to improve the reliability and efficiency of your central air conditioning system? Turn to the Comfort series. With impressive SEER efficiency ratings ranging up to 16, they're likely to cut your utility bills. And because these models can run even quieter than a common hair dryer, it's easier on your ears as well.
Carrier Heat Pumps
Heating, cooling and dehumidifying, heat pumps have it all. Except, perhaps, a name that does their versatility justice.
Infinity® Series Heat Pump with Greenspeed® Intelligence- The pinnacle of Carrier® engineering, the Infinity series heat pump with Greenspeed intelligence offers precise heating and cooling, unwavering comfort, uncompromising energy efficiency and ultra-quiet cooling performance.
Infinity® Series Heat Pump- The Infinity series heat pump is part of an intelligent, communicating system that delivers superior comfort, quiet performance and enviable efficiency in both heating and cooling modes. In fact, all Infinity models and sizes have earned the ENERGY STAR® qualification.
Performance™ Series Heat Pump- Calling it the Performance & Flexibility & Efficiency series proved to be too much of a mouthful, but these units certainly deserve the name.
Comfort™ Series Heat Pump- If you're searching for the most economical way to get into a more efficient heat pump, look no further than our versatile Comfort series. These models offer summer dehumidification and air conditioning as well as cold-weather heating performance.
Schedule Now
For more information, click here to contact us. Don't wait to find out how you can save money and energy; schedule your assessment today.