Carrier & Weil-McLain Heating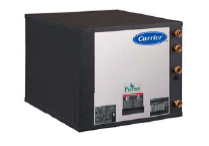 At Foley Mechanical, Inc. we have embraced modern heating equipment. Today we sell, install and maintain furnaces and heat pumps from Carrier and boilers from Weil-McLain - bringing high-quality and reliable heating systems into the homes of our customers with two of the most trusted named in HVAC equipment manufacturing. The new technologies used in today's heating systems provide homeowners with better control over their comfort and higher efficiency, which leads to lower annual heating costs. We've even started installing geothermal heating systems from Carrier! Continue reading to learn more about the furnaces, heat pumps and boilers available.
Carrier & Weil-McClain Heating Products
Carrier Furnaces
Think of your furnace as the heart of your home. In the winter, it's essential to radiating warmth. During the summer, it plays a vital role in moving refreshing, conditioned air from your cooling system. And all year long, your furnace could provide constant air circulation to keep you more comfortable. Not only that, but many of our furnaces do it all so efficiently your own heart might skip a beat when you see how low your utility bill is.
Carrier Performance/ Comfort™ Series Oil Furnaces - As its name suggests, this oil-fired line is built for reliable comfort in your home—and your budget. You can have a 20-year or lifetime heat exchanger limited warranty for the confidence you'd expect from our products, and heating efficiency of up to 86.6% AFUE.
Infinity® Series Gas Furnace with Greenspeed™ Intelligence - Looking for top-of-the-line comfort, performance and efficiency? As its name suggests, the Infinity series takes them further than they've ever been. But if the top has a top, its name includes Greenspeed intelligence
Infinity® Series Gas Furnace - Whether you live in the cold North and need the high-efficiency of a condensing gas furnace or the moderate South and can do just fine with a little less efficiency, you'll still enjoy ultimate comfort with these Infinity series furnaces.
Performance™ Series Gas Furnace - Efficient, quiet, flexible and durable, these powerful furnaces live up to their Performance name every day—no matter where you live.
Comfort™ Series Gas Furnace - If efficiency is a hot button for you but budget is your primary concern, consider Carrier's Comfort 90+% AFUE gas furnaces. These high-efficiency furnaces excel at generating warmth throughout your home—while generating low energy bills though those long winter months.
Carrier Heat Pumps
Heating, cooling and dehumidifying, heat pumps have it all. Except, perhaps, a name that does their versatility justice.
Infinity® Series Heat Pump with Greenspeed® Intelligence - The pinnacle of Carrier® engineering, the Infinity series heat pump with Greenspeed intelligence offers precise heating and cooling, unwavering comfort, uncompromising energy efficiency and ultra - quiet cooling performance.
Infinity® Series Heat Pump - The Infinity series heat pump is part of an intelligent, communicating system that delivers superior comfort, quiet performance and enviable efficiency in both heating and cooling modes. In fact, all Infinity models and sizes have earned the ENERGY STAR® qualification.
Performance™ Series Heat Pump - Calling it the Performance & Flexibility & Efficiency series proved to be too much of a mouthful, but these units certainly deserve the name.
Comfort™ Series Heat Pump - If you're searching for the most economical way to get into a more efficient heat pump, look no further than our versatile Comfort series. These models offer summer dehumidification and air conditioning as well as cold - weather heating performance.
Weil-McLain Boilers
Why we use Weil-McLain Boilers....
Full Product Line to satisfy every application
Every residential gas boiler is hydrostatically tested to ASME standards and test fired
Backed by Weil-McLain quality and a warranty that provides peace of mind
Over a 130 year proud history as North America's leading boiler manufacturer
Ultra Series 4 Ultra Efficient Condensing Gas Boiler
Up to 94% efficient DOE AFUE efficiency and featuring U-Control for easy set-up and maintenance.
GV90+®
A 90+% AFUE efficient cast iron gas boiler that can vent with PVC pipe material.
WM97+ Wall Mount Gas Boiler
70,000 & 10,000 BTU input models, both at 97% efficiency ratings.
Evergreen Gas Boiler Series
Available in various sizes with AFUEs ranging from 95%-96.5% and featuring controls for up to three zones for optimal heating coverage.
Schedule Now
For more information, click here to contact us. Don't wait to find out how you can save money and energy; schedule your assessment today.