What is NJ Home Performance with ENERGY STAR®?
Using a "whole-house" approach, our specially trained certified technicians assess all of the components of your home in order to ensure optimum energy efficiency and performance. By having your home performance evaluated, you can save up to 30% on energy costs and reduce the amount of energy used.
At Foley, we consider home performance assessments to be one of the key components to ensuring your home remains cost-effective and operating at 100%. A performance assessment can increase your home comfort and save you money.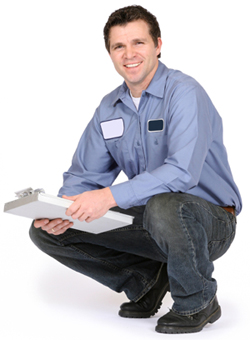 What is a Performance Assessment?
When our certified technician shows up to your home for a performance assessment, or audit, the first step they will take is to perform a thorough inspection of your home, from your basement up to your attic. Our technician will leave no crawl space untested, ensuring that your whole house has been assessed. After the visual test, our technician will perform a number of computerized, scientific tests. These will test your home's conditions including:


Carbon monoxide levels with our carbon monoxide analyzer
Potential moisture problems
Air infiltration rates
Insulation levels
Home hot-water system efficiency
Heating and cooling system efficiency
Lighting
Major appliances
You home's air tightness with the blower door tool
After these tests have been conducted, our technician will propose improvements needed and will develop a work plan including a cost and energy savings estimate. Our technician will even go over the Home Performance with ENERGY STAR® financial incentives available to you based on your home's estimated total energy savings.

The first step to saving is to schedule an assessment for your home.
Call us today to schedule your home energy audit. Click here to contact us online.
Air Sealing
Did You Know...?
In the average home, as much as 25% of heating and cooling dollars escape between unseen gaps in your home.

When our reliable technician shows up to your home to perform air sealing projects, air leaks will be tested with our "blower door" system. We'll accurately measure and detect the air loss in your home. Once we find the problem areas with our test, we will seal all cracks in order to eliminate air passages that are wasting energy and money.
ENERGY STAR® Qualified Appliances
Use less energy and pay less on your energy bills with our ENERGY STAR® qualified appliances. ENERGY STAR® qualified appliances only use up to half the energy required by regular appliances and cuts your monthly energy costs.

Call Foley Mechanical today for ENERGY STAR® qualified appliance installation. Contact us here with any questions you may have about our ENERGY STAR® qualified products.


ENERGY STAR® Qualified Lighting
Meeting high standards for energy efficiency and quality, ENERGY STAR® qualified light fixtures and bulbs use less energy with top performance. Our ENERGY STAR® qualified light bulbs last up to 10 times longer than other bulbs while using two-thirds less energy. Knock down your monthly energy costs and waste without having to compromise performance and design.

Call us today for more information on our ENERGY STAR® Qualified Lighting or click here to contact us.
Insulation
When you receive our insulation upgrades on your home, you will achieve a higher level of comfort in your home.

Why You Should Upgrade Your Home's Insulation
By ensuring your home is insulated properly, you will stay cooler in the hot summers and warmer in the cold winters to come.
By adding greater insulation levels to your home, you will lower your electric bills.
Insulation even helps you enjoy a quieter home.
Windows
ENERGY STAR® qualified energy-efficient windows will help you save money on your energy costs as well as increase the efficiency of your home's heating and cooling. We'll help you find the best insulating value for your home so you can keep your heating and cooling inside. ENERGY STAR® windows provide a minimal loss of visible light, more moderate temperatures with fewer cold drafts and reduced condensation and fading.
Schedule Now
Start saving on your energy costs and reduce energy waste by installing ENERGY STAR® qualified appliances, lighting and windows. To schedule a home consultation or installation contact us here.