Geothermal Basics
Almost everywhere, from 10 feet to 200 feet down, the Earth's temperature remains relatively constant – and we've tapped into this renewable energy resource with geothermal heating. A Geothermal system consists of pipes buried shallow in the ground, or in the case that space does not allow, in vertical bores. In the summer, the Geothermal Heat Pump removes the heat from your home or building and stores it in the ground. In the winter, the Geothermal Unit essentially returns the heat that was transferred to the ground from the summer months back into your home. The excess capacity that is inherently available is deposited into a hot water storage tank. This description is only for a very small example for the Geo-exchange resource that is available.
Watch A Geothermal System Installation:
Carrier GZ Geothermal System
If you prefer higher heating temperatures from your registers in winter or just want to continue using an existing furnace, this indoor unit may be what you need.


The INFINITY® GZ geothermal split system heat pump combines superior performance with the smart, powerful and intuitive Infinity Touch control.
This system utilizes your new or existing furnace or fan coil's blower motor to move air and offers the efficiency and comfort benefits of a two-stage compressor, all tied together with the versatile programming, energy tracking and available wireless/remote operation of Infinity Touch.
Perhaps best of all is a Federal tax credit still available on qualified geothermal heating and cooling systems. So, you can revel in getting a tax credit of 30% of your installed cost of a geothermal system.
Residential Projects
Foley Mechanical designs ground coupled heat exchangers based upon our client's needs. Long-term reliability is of utmost importance. Economics and payback on investments follow closely behind. We can take a look at your property and determine whether an open loop, closed horizontal, or vertical closed bore field is necessary.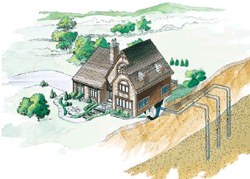 An example of a vertical loop installation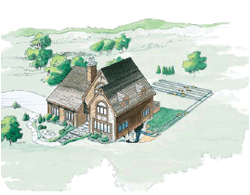 An example of a horizontal loop installation
Financing
Many avenues are available for financing this type of work. Please do not hesitate to contact us at our office for the financing opportunities we offer.
Larger Projects
A test well provides the information we need for local geology. The results of the testing provide information about soil thermal conductivity, diffusivity and resistivity. Our team of designers uses this data to determine bore field depth, location, number of penetrations, and amount of grout needed. The urgency of a test bore cannot be overemphasized.
Grout
Foley Mechanical, Inc. only uses Geo-Pro thermally enhanced grouting products. Geo-Pro is responsible for pioneering thermally enhanced products for the Geo Exchange industry. During this process they have raised the awareness of the importance of thermal conductivity within the vertical bore annulus. Geo-Pro Thermally Enhanced Grout builds the most efficient bridge between our Carrier Geothermal Equipment and an infinite source of free energy in a vertical bore.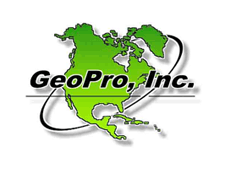 Schedule Now
For more information, click here to contact us. Don't wait to find out how you can save money and energy.