Save Money with a Foley Service Plan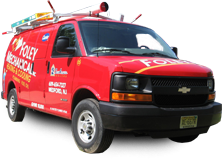 Foley Mechanical strongly recommends that all its customers enroll in service plans to protect their heating and cooling equipment and guard against expensive repairs.

We offer service plans for every type of system. When you are enrolled, we perform scheduled maintenance on your equipment and replace worn or damaged parts at no cost. That kind of preventative maintenance provides crucial benefits:
Problems are detected before they become serious and cause outages during extreme weather.
Regular tuning promotes efficient operation and conserves energy.
Early detection generally stops small problems before they cause larger ones.
Service plan customers pay less for repairs than non-plan customers do, and the difference can be significant in the event of a major repair.
No matter which plan you select, it will include unbeatable maintenance, with round-the-clock service, annual tune-ups and diagnostic analysis. Plus, many plans include free labor on all specified parts.

For more information or to sign up for a Foley Mechanical service plan, call us today at 609-654-7327 or contact us.