by Julie Dengler 28.AUG.09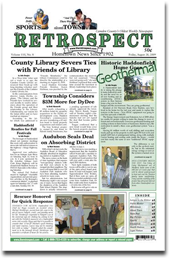 A Haddonfield family is taking the plunge to make federal tax credits and the need for an all new heating and air conditioning (HVAC) system in their historic home a big win for their budget and the environment. They are going geothermal.

Resident of 212 Warwick Road, Dave Stanton, says he's lived in his home for the last year and needs to replace the systems in the house - New HVAC equipment was going to cost him upwards of $40,000.

The Energy Improvement and Extension Act of 2008 offers tax credits for people willing to make the change to more efficient and environmentally conscious geothermal heating and cooling systems in their homes or businesses. Stanton says, the motivation to install a three zone geothermal system "was a wash."

Having $1 million worth of well drilling and excavation trucks pull up on his property to drill eight 300 foot wells and install 2,400 feet of underground tubing, along with multiple Carrier heating and cooling units inside the house - would cost him nearly the same as new 'traditional' HVAC equipment.

The difference is not only in the up-front credits, but in the estimated energy savings as soon as the system is turned on in the next week or two. Stanton says he currently pays about $1,200 a month in gas and electric costs. Once the new system starts working, he'll have no gas bill at all, and his overall electric bill will drop to about $500 a month.

How did Stanton get 'turned-on' to this whole concept? He says, "I'm not skeptical. All you have to do is spend fifteen minutes to read about it and you can tell it's a benefit." Not to mention, his father-in-law, John Izdebski, "has had geothermal systems in his home(s) for thirty years...He moved a couple years ago and installed a system in his new house...So I've experienced how it works."

Stanton is working with Tim Foley, of Foley Mechanical, Inc. out of Medford. Foley was featured in a Retrospect article earlier this year - for the installation of a geothermal system in a home in Collingswood. The $70,000 system comes with rebates from Carrier, the manufacturer of the heat/air pumps used to circulate air generated by the underground system, and a 30% tax credit that figures to $21,000.

Foley is the real deal. He smiles at the fact that on the first day of well drilling at Stanton's, he had two "high powered executive types" stop by to talk about investment opportunities. "They wanted to work something out along the lines of them setting up financing and sending candidates my way...Right now, I'm getting a call a day from Haddonfield."

Foley owns Foley Mechanical. He's been in the HVAC business for 17 years, and in high efficiency systems for the last ten. His own house runs on a geothermal system, as does his brother's house, and his rental properties. "Two years ago, we converted our offices to geothermal...we are saving $400 a month on our utility bill [as a result]."

With regard to how his business may be on its way to booming - in Haddonfield alone - Foley says, "We'll put in as many systems as we can. We do about one system a week [right now]." As for the Stanton family, hopes are to go solar sometime next year. By then, he'll be living in a house built in 1860 that will rely on energy consumption that's oh so 21st century.